Biography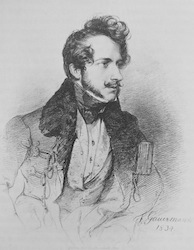 Portrayed by Josef Danhauser in 1834
Friedrich August Matthias Gauermann was born on September 20, 1807 in Scheuchenstein, Lower Austria at the Pichl Estate. He was the third son of the landscape painter Jakob Gauermann and his wife Rosina, née Schöffstoß. His father came from a family of carpenters in the Swabian town of Oeffingen. Jakob Gauermann recognized early the artistic talent in both Friedrich and his older brother Carl and he promoted accordingly.
From 1822 to 1827 the artist studied at the Royal Academy of Fine Arts in Vienna. In the summer of 1825 Gauermann made his first journey to the Salzkammergut. In the summer of 1827 he traveled in Austria through Mariazell, Weichselboden, Admont, to the Salzkammergut, and the Königsee and in Germany to Dresden and Munich. In the summer of 1929 he traveled to Munich again to visit to Moritz von Schwind, Joseph Binder, and Leopold Schulz. Also in 1929 Ferdinand Georg Waldmüller acquired several works by Gauermann. On October 23, 1829 his brother Carl died.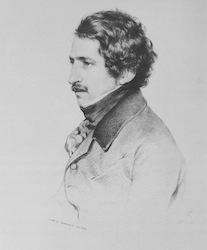 Portrayed by Franz Eybl in 1842
In the summer of 1831 the artist traveled to Salzburg, the Berchtesgadener Land and the Salzkammergut. In Hallstatt Gauermann painted with Franz and Wilhelm Steinfeld, Johann Fischbach, Franz Gruber, and Ernst Welker. In the summer of 1833 he made a trip to North Tyrol with his brother-in-law Josef Höger. In 1834 he had a painting exhibited at the Royal Academy in London and he traveled again to Munich. On March 26, 1836 Gauermann became a member of the Academy of Fine Arts in Vienna. In the spring of 1938 he studied the works of Tizian, Tintoretto, and Veronese during his Italian travels to Venice, Padua, Verona, Rovereto, and Lake Garda. On November 25, 1838 Gauermann married Elisabeth Kurz with whom he was to have four daughters – Rosina, Ottilia, Maria Elisabeth, and Auguste.
During the summers of 1841 and 1842 he stayed in the spa at Karlovy Vary. On March 27, 1843 Gauermann's father died and Gauermann retired to his family estate in Mistelbach. That summer he made a second trip to Italy to Trieste, Venice, Padua, Verona, and Milan, and then returned to South Tyrol. In the summer of 1844 he made a last trip to the castle of St. Bartholomä near Berchtesgaden. In 1845 Gauermann received the Luxembourg Order with the calibration crown for two of his landscape paintings. He also received orders from the Prince Kinsky, Prince Liechtenstein, Baron Rothschild, and Rudolf von Arthaber.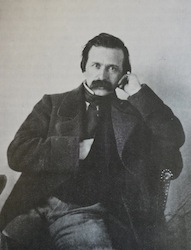 Friedrich Gauermann around 1855
In 1848 Gauermann was appointed an honorary citizen of Vienna. In the years 1857 to 1859 Emperor Franz Josef acquired several of the artist's works for Bad Ischl. On July 7, 1862 Friedrich Gauermann died of a bile and liver disease in his apartment on the Laimgrube in Vienna.
Initially drawn to the tradition of 17th Century Dutch painting Friedrich Gauermann processed personal experiences of nature in his atmospheric mood paintings. His portraits, peasant genre as well as animal and hunting scenes are today regarded as masterpieces of Austrian Biedermeier painting.
Works by Gauermann are now found in numerous collections, including the Belvedere, the Vienna Museum, the Neue Galerie Graz, and the Museum Niederösterreich in St. Pölten.